Mary Rose Cook is a Hacker Schooler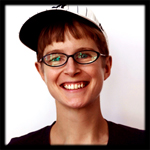 Mary
We're thrilled to announce that Mary Rose Cook is joining the Hacker School faculty!
Mary was in the summer 2012 batch, and we've been working on hiring her ever since.
Mary is the author of some really awesome open source projects, including Isla, a programming language for young children. She's written multiple libraries, including Andro.js, Machine.js and Glazz. She's also made two very fun and challenging games, most recently the inventive platformer, Empty Black.
I could go on raving about Mary's many accomplishments, but I don't think they capture why we're so excited to have her joining us. Here's the real reason we're so happy: In addition to being a wonderful programmer, Mary is a delightful human being. She's fun, funny, inquisitive, patient, friendly, creative and a pleasure to work with.
Please join us in welcoming Mary to Hacker School. Together, we're going to continue building Hacker School into the best place on earth to learn and grow as a programmer.
— Hacker School
(Alan, Allison, Dave, Mary, Nick, Sonali, Tom, and Zach)