We're continuing to run batches online in 2021
We'll be operating RC remotely until further notice. All batches that are open to applications will happen in Virtual RC, and you'll be able to attend from anywhere in the world. We still don't know when we'll be able to reopen, but we don't expect that it will be before mid-2021. We hope to continue running remote batches when we reopen our space, too.
The best community to grow as a programmer
At its core, RC is a community of over 1,700 programmers who are committed to learning and becoming dramatically better. They have attended from more than 50 countries around the world, and they come from all sorts of backgrounds: Recursers are engineers, academics, parents, musicians, students, artists, retirees, and scientists.
The recent turmoil in the world has only increased the importance of community and learning how to direct yourself to build meaning in your life. RC has always worked best for people who are at pivotal points in their lives: When they are open to change, seeking new ideas and friendships, and reevaluating what they want. At the same time, operating online means RC is accessible to a much wider range of people than just those who can come to New York.
Before the pandemic, we were sometimes asked whether we offered remote attendance, and we always said no. We're a small team, and our focus was always on making the in-person retreat the best experience it could be. Ever since it became unsafe to operate in person, we've been working to do the same for the online retreat. We've built new software to support easy ways to communicate and interact with other Recursers (learn more on our Virtual RC page), successfully held our batch orientation in our virtual space for the first time, and ran an Open Source Week with over a dozen events that were attended by more than 100 Recursers.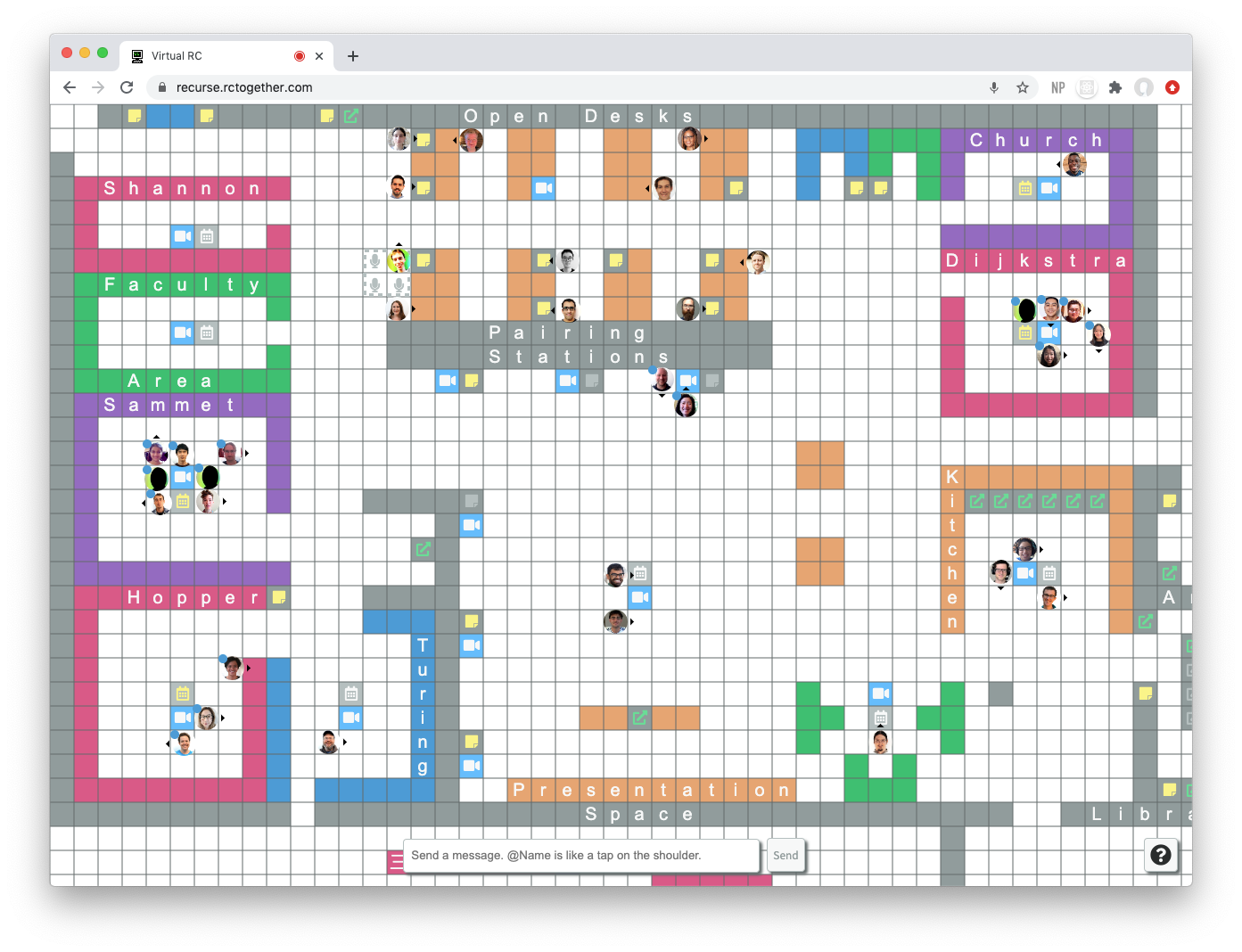 Now that we have to operate remotely, we've learned that there are some wonderful advantages to doing so. The most important one is that it gives us the ability to welcome more people from all over the world because it removes many of the obstacles associated with traveling to New York for many months, such as visas, travel costs, and the challenges of uprooting one's life. People have attended Virtual RC from Ghana, Singapore, Russia, Israel, England, Argentina, Canada, Japan, and India. We were able to welcome people who were admitted many years ago but couldn't make it to New York for batches.
We've also been able to welcome alums back all day, every day. They've been hosting some great study groups and events, like an Intro to Mathematical Thinking group, early checkins for people in different timezones, and a discussion group for former resident Martin Kleppmann's book Designing Data Intensive Applications. If you attend RC online, once your batch ends you'll be able to drop in to Virtual RC whenever you like to pair program, prepare for interviews, share your work, attend events, or work in our quiet space.
While you can participate from anywhere, our core hours are still set based on US Eastern Time (11am to 5pm ET, Monday through Friday), and we still expect RC to be your main commitment while you're in batch. Aside from our mandatory first day events (which happen from 10 am - 12 pm ET), there aren't other mandatory events, and people in different time zones have started check-in groups and run social events at times that work better for them.
The future of in-person batches
We don't know when we'll be able to reopen our physical space in Brooklyn. In order to open our space, we'll have to be confident that it's safe for people from all over the world to travel here. We expect that won't be until there's a vaccine, which means we probably won't be able to meet in person again until mid-2021, or later.
We expect to know when we can reopen several months before we actually restart in-person batches. As soon as we are confident on a timeline for resuming in-person batches, we will post an update. Our goal is to allow both in-person and remote participation indefinitely, but do not yet know whether that will be logistically feasible.
If you'd like to join a supportive online community of programmers, apply to RC!
This is a follow-up to our previous post about hosting batches online through the end of 2020.